Last Updated on February 20, 2023 by admin
The Video Games culture that has evolved over the years has now become beneficial and detrimental at the same time. Where study-related games augment the understanding of complex subjects, violent games are making youngsters more aggressive.
Also, video games have reduced the outdoor exposure of kids. They prefer sitting at home and playing their favorite video games online over the phone. This practice has undoubtedly boosted the cognitive skills of the youngster but still has bought many dilemmas like high addictiveness, weak eyesight, etc.
According to a recent survey, 34.3% of students today think playing video games had lowered their time for outdoor fun, and 27% of them said these games are too addictive.
Video Games And Its Impact In 21st Century
The 21st century being the hub of online gaming, has been broadly influenced by violent video games that bring more shortcomings than virtues. This dominant sport has taken over the world of part-time entertainment and has become commander of the span.
The ubiquitous nature of video games is so compulsive that teens when they start playing these games, don't know when and how to stop. The addictiveness has stunned the world, and parents cannot control their children no matter what they do.
Image source
The latest trends in the video gaming culture are not just the talk of the town for children but also teenagers and adults. For instance, "PUBG", one of the most popular video games of the century, has 30 million active users worldwide, where "COD" has outshined it with 111 million users daily.
These violent games have curved the meaning of amusement today, and the gamers associate violence with fun which has not only affected their behaviors but the whole lifestyle. Today, they find pleasure in killing their opponent and practice these actions because it's rewarding.
Where opposing this, human emotional makeup is concocted to detest violent behavior and feel content helping others. The contestants who are continuously indulged in video games often find it challenging to adapt with genuine principles and adopt duplicitous intuitions that move with them for the rest of their lives.
These games, undeniably, are the pick of the bunch to unwind, but excessive practice can be detrimental and brings various health risks. The world health organization in 2018 has also acknowledged gaming obsession as a mental health disorder as the situation brings many challenges to psychological and physical health.
READ: "F95Zone "
Influence Of Video games On youth
As discussed a few paragraphs ago, video games offer more cons than pros. Its influence on youth is not positive and needs to be addressed.
1. Increased Aggression
The persistent exploit of video games brings increased aggressiveness in a person. A child might not like or can be controlled by the violent games, and the adults might know where to get to an end but youngsters.
Today's youth are going out of hands; the desire to win, kill the rival has made them so impulsive that they see no end at the tunnel and are continuously and hastily going to the gloominess. This chaos around their virtual environment has multiplied their violent behavior.
It mends them into a hostile world where they see no ceasefire and continuously walk on a battle road where the only thing they need to hold in is their anger.
Image source
The condition doesn't only make them aggressive in the virtual world but also in the real world. Youngsters find it challenging to come out of the character, making them more heated and augment their antagonistic behavior.
2. Antisocial Behavior
Violent video games promote rebellious comportment, and player tends to lose their feelings of empathy and compassion.
Image source
According to Assignment Assistance UK, Psychologists have observed some compulsive elements of reservedness and selfishness in gamers. They believe the roots are brutality and cruelty they endure while playing video games. However, that is not the only reasons; other factors can also include violent parents, wrong companies, childhood disorder, etc.
Excessive video gaming also results in youngster isolating themselves and worrying about the contests that limit them from focusing on reality and encourages them to adopt antisocial values that eventually result in them being egoistic and self-centered.
3. Stress Disorders
Gaming stress triggers anxiety and brings fear and terror among players. The teenagers who reserve all their free time for video games are likely to have more phobias because of their apprehension about losing the contests.
All the distress that a player encounters during virtual combats results in stress disorders and brings the feeling of uselessness and nervousness that results in low self-esteem that leaves the player terrified and petrified for a long time.
4. Screen Addiction
Screen addiction; one of the most common physical health risks of playing video games that impact weakened eyesight and neck and back problems. This snag is one of those major glitches that are never addressed but cause long term destructions.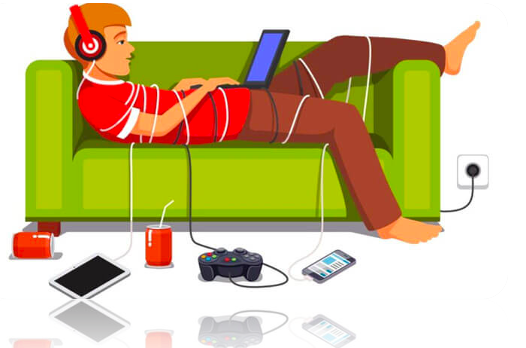 Image source
This disorder can result in many flaws that might seem petty but have prolonged after-effects. Such as obesity.
Screen addiction is an extraneous variable in obesity because the direct is overeating. When a person is glued to his computer screen, playing video games, he always needs his mouth chewing, and for that purpose, the player ends up overeating . This is why you will always see snacks and confectionaries beside gamers—also, bonded to computer screen results in worsened postures and severe back and head pains.
Read also: F95Zone: Ultimate Guide F95 Zone and It's Best Alternatives [Update 2021]
5. Improved Intellectual Skills
The only positive impact of video games like Borderlands 3 Save Editor on an individual I could analyze so far is better cognitive skills. The gluiness to the computer screen to play video game improves recognition ability and multidimensional memory. You can also enhance your eye and hand contact with better reaction time and improved accuracy.
Impact Of Video Game On Mainstream
After a thorough analysis of video game's influence on youth, let's see how it affects the mainstream culture.
1. Increased Means Of Interaction
Video games increase the chances of engagement between anons and help people treasure some great friends and associations.
Image source
You might have seen friends playing at gaming zones and interacting with people they don't even know. Also, there are a lot of chances that people who seem friends met in an online video game and become acquaintances.
A study from virgin media also acknowledges that friendships built via video games are as meaningful as real-life ones and tends to stay longer and, in many cases, for a lifetime.
2. Acceptance Of Ostracized Social Groups
When people become friends with people they don't know, they learn coexistence, and when they learn to coexist, they also accept the minorities and those ignored social groups who lived within them but not among them.
Video games encourage engagements and interactions that foster affiliations and help make a robust bond between different subgroups. Thus, it promotes fellowship in society and supports coexistence, which is a substantial demand of any noble culture.
Author bio
Amanda Jerelyn is a Blogger at Crowd Writer, one of the best platforms to get your essay help online at reasonable rates. She is also a lifestyle coach and loves providing regime tips to her audience.