Last Updated on May 27, 2023 by hassan abbas
In this scorching heat and hot weather Pakistani clothing is the most ideal and easily manageable option for women who are looking forward to designing their formal dresses or looks for this season. The best thing about buying an unstitched suit is that you can style it in your way quite easily. You can best practice your creativity to make your dress go perfectly with your personality.
Ladies in Pakistan mostly like fresh and natural colors in summers that too with pretty and minimal embroidery and elegant pattern work. The unstitched collection gives you the freedom to make a dress of your own choice. For your convenience, the Pakistani clothing online facility is also available now.
Many brands and store have launched their unstitched collection for this season. Buying unstitched Pakistani clothes means going from market to market or mall to mall to search for the best collection. That can be quite hectic and apart from that, the weather is also quite unfair these days. To save both your and energy you can check out the online brands and stores that are offering unstitched dresses. Many brands are now delivering quality and reasonable stuff these days online. Let's have a look at different unstitched fabric collections:
Just see, how stylishly this unstitched suit is designed. It is not only beautiful in its color but also elegant in its design. You can enhance your looks while stitching it according to your choice and design by ordering these Pakistani clothes online now.
Top 5 Latest unstitched formal collections:
Well, the unstitched formal collection, we are going to introduce here, is too amazing that we couldn't just stop ourselves from sharing it with you guys. These unstitched Pakistani dresses definitely have our hearts. Let us introduce you guys to a few of our favorite picks from the collection. Just to make it easier for you ladies to get a clear picture of what this elegant collection is like. Let's quickly hop on to the first pick.
1. Rajdani unstitched formal suit for ladies 2021:
In an eye-catching apple green color 'Rajdani' is a three-piece unstitched suit in chiffon dupatta and cotton suit. You can see the handcrafted sliver brooches over the dress. The shirt piece is also having embroidery all over it. the dupatta is in pink color while the shirt and trousers are in elegant gray color. It is a very stylish suit to wear because of its unique color combination and style. This stylish dress will help you enhance your beauty by giving you unique looks. Moreover, you can also get this pretty good Pakistani dress online.
2. 'Tareef'Unstitched Formal Suit for Women in 2021 by Zaaviay:
Next on the list is this pretty elegant dress named 'Tareef' it is a three-piece dress in embroidered chiffon and raw silk. The shirt is in a beautiful purple color with mesmerizing gold zari work on it which is giving it quite a traditional look. On the border of the shirt, there are embellishments as well which are complimenting this shirt piece. Next is the dupatta which has zari work in gold on it and embellishments as well. the dress is paired with straight trousers paints in plain purple color with pin tacks. Also, we have noticed the sleeves of this dress to be entirely elegant as they have beautiful lace on them. So, this unstitched Pakistani suit speaks for itself. This is perfect for festive events.
3. Women cotton unstitched dress: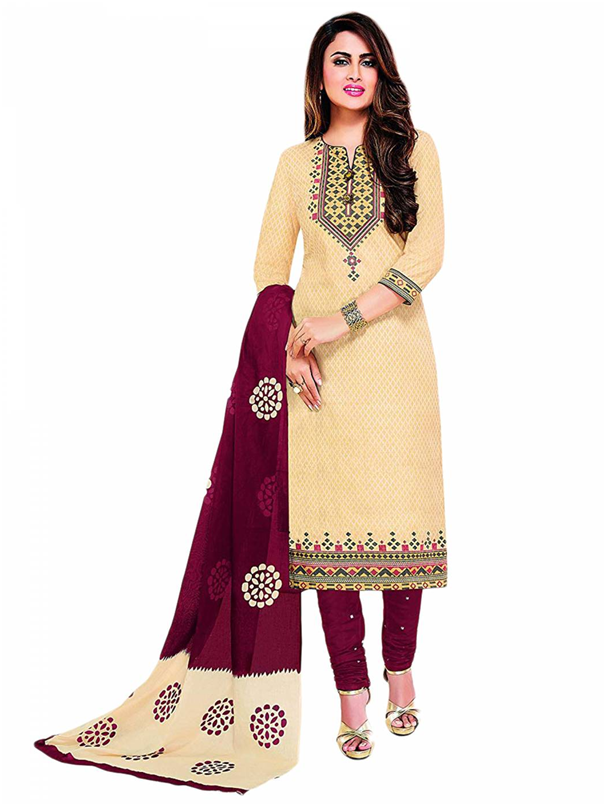 Third, on the list is this beautiful three-piece dress. It's in maroon and half white color with a great combination and print. The shirt is designed very stylishly with beautiful detailing and border design. This dress is suitable for all types of occasions like you can wear it to parties and functions. It will give you a new look and makes you feel comfortable as well.
4. Sana Safinaz unstitched formal suits for ladies:
The next brand names "Sana Safinaz" which is a very well-renowned brand of Pakistan. It is the most spoken formal collection which most women prefer to wear. Just look at its one of the attires above. This suit is really in a good color combination and design. The yellow, white, black and purple colors make it the most beautiful dress. You can wear it on different occasions and it will enhance your beauty. So, now you can order this Pakistani suit online now.
5. Gul Ahmed unstitched formal collection ladies in 2021:
The fifth top unstitched formal suit, in our list, belongs to the Gul Ahmed brand. This dress is designed very stylishly. The gorgeous pink color with a white combination makes it a unique dress for ladies. On top of all this, the dress is of a very fine quality brand. So not to waste time and go and order it.
Conclusion:
In case you are searching for a hassle-free experience while look for unstitched suits for ladies, we will recommend you to check out these dresses and order online. These above-mentioned, dresses are top-notch quality unstitched formal suits which you can wear on different occasions and amaze others with your styles. Hence, we suggest you not waste time and order what captivates your attention. Also. you can get these dresses in online clothing stores. We also hope that this article was of some good help. Good day and thanks for reading!
Read More: Savvy Fashion for success: Choosing the right Adrianne Pappel dress