Last Updated on September 15, 2022 by admin
Choosing the suitable countertop material that meets your expectations is essential for your kitchen renovation plan. Rightfully, you may want to know every detail about the kitchen countertops you pick for your design because the features of each countertop material vary. Besides, these features determine the conditions such as budget, functionality, style, cleaning, and maintenance in different ways.
As being in high demand countertop material, granite may be the most appealing one for you. Indeed, granite is timeless because coming with unique colors and patterns; this natural stone adds an authentic style to any kitchen design. Still, there is much to consider about granite countertops before making the final decision. Keep reading to learn the pros and cons of granite countertops.
Pros of Granite Countertops
Durable:
Since they are super sturdy, granite countertops last for decades as long as being appropriately maintained.
Unique and Natural:
Each slab is one-of-a-kind due to granite's natural surface. Granite countertops provide an upscale and unique look that personalizes every kitchen design.
Variety of Designs:
Granite countertops have unique colors and patterns that can perfectly fit different kitchen designs, from traditional to contemporary.
Heat Resistant:
They are known for their heat resistance. You can use your granite countertops confidently because they will not melt or blister with heat exposition.
Scratch Resistant:
They are also resistant to scratches, making them perfect for busy kitchens. Though incaution is not recommended for any countertop material, you do not have to worry much about your granite countertop while using your knife.
Stain Resistant:
As long as being sealed correctly, granite countertops resist stains, and the surface remains in great shape for years.
Sanitary:
As long as you clean and maintain your granite countertops properly, you do not have to worry about bacterial growth on them. 
Add Value to Your Home:
Granite is a wise investment for your home because it does not depreciate in value. Even more than that, it adds value to your property with its high-end appeal.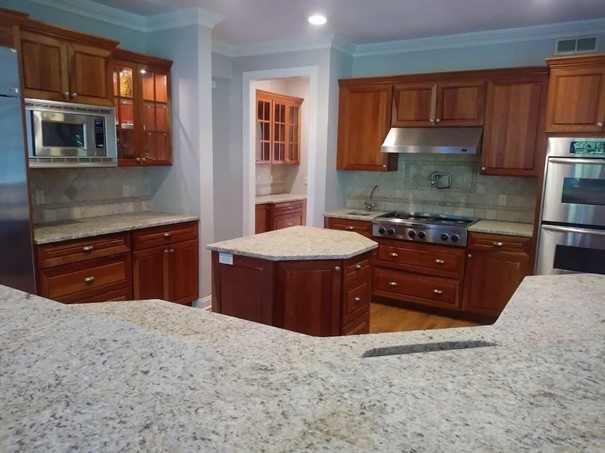 Cons of Granite Countertops
Heavy:
Granite is quite heavy, and it requires a sturdy structure that carries the countertops. You may need additional structural support if the existing one is not strong enough. Besides, the installation should certainly be done by professionals.
Expensive:
Granite is categorized among costly countertop alternatives. You will also need to budget for professional installation.
Porous:
As a naturally porous material, granite may be prone to stain occurrence and bacterial growth unless it is sealed periodically.
Hard to Change:
Granite countertops are made to last. Although this is a positive feature, it may be a problem if you change your mind. The removal process may be complicated and even damage the cabinets underneath.
Requires Periodic Sealing:
Because of their porous surface, granite countertops require annual sealing to prevent bacterial growth and staining.
Comes with Seams:
For most granite countertops, seams are inevitable because each slab is different from the other. If you prefer a uniform surface look, granite countertops may not be an ideal choice for you.
Now that you have all the information you need about granite countertops, you can decide whether granite is the material that meets your expectations and suits your kitchen design. Check Bergen Cabinets and Countertops collection of high-quality countertops in which you will be able to find the perfect countertops that match your dream kitchen design.
Read More: How to Choose the Best Granite Worktops to Fit your Home?