Last Updated on October 17, 2023 by
Cancun is a city full of fun and new activities to do. But if you want to do something a bit out of the ordinary, learn about a few places you can go to make your vacation in the Riviera Maya an unforgettable time. Keep on reading about places to go and things to do in Cancun, Playa del Carmen, and more…
How to get to the Riviera Maya?
The easiest and more recommended method to arrive at the Riviera Maya is by landing at the Cancun International Airport. If you're staying either in Cancun, Playa del Carmen, or Tulum, flying to Cancun is the best option. It's even easier when you have private transportation waiting for you as you land in Cancun. Our number one recommendation is for you to book ahead with Cancun Airport's official partner: Cancun Airport Transportation.
Cancun Airport Transportation is a trustworthy and reliable transfer company. In its services, they include transfers to any destination in the Riviera Maya, hotel, or Airbnb.

Snorkel in the Coral Reef
While in Cancun, there's no reason why not to try snorkeling. What's fun about snorkeling is that you can actually do it anywhere. The thing is, if you want to have the ultimate snorkeling experience and see all types of marine life, you'll need to book a tour. The snorkeling tour will take you to the Coral Reef in Puerto Morelos, Akumal, or Cancun, a special crowd-free location for you to be able to see the marine creatures.
Coco bongo night show
Cancun has long been known for its nightlife and Coco Bongo is the cornerstone of the action. With its dynamic Vegas-style shows and hot tune,s that will have you dancing all night long, Coco Bongo Cancun or Coco Bongo Playa del Carmen is the place to kick up your heels and put a little WOW in your vacation.
More than just a nightclub, Coco Bongo Cancun is entertainment, with high-flying aerial artists, spot-on celebrity impersonations and a theatrical experience all rolled into one amazing night. Where else can you see Madonna flirting with Spiderman on the dance floor?
JOYÀ Cirque du Soleil
JOYÀ, the first Cirque du Soleil resident show in Mexico, combines culinary and performing arts in an intimate theater setting to engage the audience's five senses. Drawing on Mexico's history and heritage, JOYÀ tells the story of an alchemist and his granddaughter embarking on a quest to uncover the secrets of life. This show is something you definitely don't want to miss. Have a romantic dinner and enjoy the magic and mystery of this legendary and worldwide known show. 
Yacht to Isla Mujeres
Traveling with luxury? There's no better way than to book a yacht in Cancun. A private yacht in Cancun can take you around the Nichupte Lagoon, and around the Hotel Zone in Cancun. And of course, you can sail off to Isla Mujeres and spend the day there. There's no need to get to the island, the yacht can be berthed on the beach, and you can enjoy the bright blue water of the ocean on one of the most beautiful beaches in the Caribbean. Playa Norte is famously known for its beauty and crystal-clear water.
Bungee Jump in Cancun
Bungee Jump from a 25 m (80 ft) height platform to the beautiful Cancun's blue sea. For all, you adrenaline junkies, jump into an adventure by dipping slightly in the water after free falling. Professional orientation from a certified instructor is offered prior to your jump. What better thing to do with friends and break through fears than by jumping out into the Caribbean sea? Prove your courage on Bungee Jumping in Cancun.
Discover Chichen Itza
A little bit out of the Riviera Maya, you'll find yourself closer to the Wonder of the World. Just 122 mi away, a 2-and-a-half hour drive, the amazing city of Chichen Itza awaits. Halfway getting to Merida, in the state of Yucatan, the Pyramid of Kukulkan arises. Take a day off and book a Chichen Itza Tour, you can save a lot of trouble and you'll actually get to do and see many things in only one day.
Chichen Itza is a place you need to visit, why? Because of its cultural and historic value, the buildings of Chichen Itza tell a story about the Mayan Culture and Mexican history.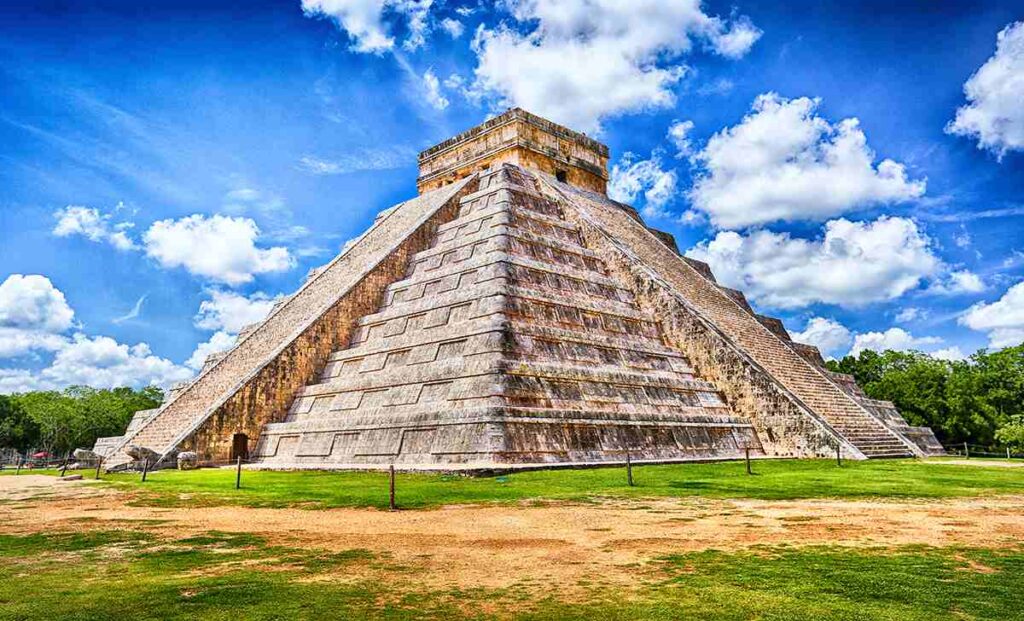 Apart from this if you are interested to know more about then visit our Travel category