Last Updated on July 29, 2022 by rabiamuzaffar
Modern art is a broad label used to describe artwork produced after the late 19th century. Around this time, artists began to break away from traditional styles and values and adopt an attitude and spirit of experimentation.
Modern art begins with artists such as Vincent van Gogh, George Seurat, and Gustav Klimt, to name just a few. These great artists introduced utterly new ways of doing things that would forever change the world of art. The movement can also be attributed to the greater 'enlightenment' occurring throughout larger society at the time.
As a result, more people have become artists in the last century than in any other time in history. The modern art movement accompanied by technological advances has made it easier than ever for anyone to express themselves artistically. The saying that "everyone is an artist" has never been truer than it is today.
New Ways of Thinking
If you want to learn about art movements that seemed to be the roots of modern art you can be traced back to one central turning point. Mainly, it stems from society's rejection of historical and conservative values, such as religion, and replaces them with an attitude of liberalism, individualism, and self-expressionism.
Another major factor to consider was the newfound exposure to Eastern art and ideas, mainly Japanese decorative prints. Until this point in history, East and West were predominately separate from one another, at least culturally anyway. Still, once the two came together, an explosion of revolutionary ideas occurred.
Symbolism, Pointillism, Divisionism, Impressionism, Fauvism, Cubism, Futurism, Surrealism, Expressionism, Constructivism, Minimalism, Pop art, Op art, Metaphysical painting, all these new styles developed by art movements and spread all over the world including East and West, South and North.
Children at Play
With the emergence of these new ways of painting, accompanied by the more liberal attitudes of society at the onset of the 20th century, artists became more accessible than ever before to express their deepest intuitions and creative impulses.
It could be mentioned that some of the most incredible artwork of all time has been produced in the last two hundred years. Take Pablo Picasso's abstract portraits or Salvador Dali's melting clocks. You could argue that these paintings express the mysteries of the human mind better than any other style to come before.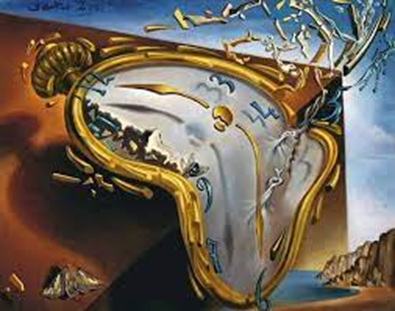 Whereas classical paintings offer a surface of superb realism underlined by humanity's highest aspirations, modern art explores the more profound, perhaps darker side of human beings, such as dreams, sexuality, and the unconscious mind.
Meaning out of Meaninglessness
It has also been criticized for the extraordinary visual images and modern symbolism art has provided. Many believe that much of the work is nothing more than empty trash compared to the excellent results of old.
In paintings of a classical style, their aim was often to move and inspire the viewer and offer a profoundly symbolic illustration (often religious) of the many struggles and highest ideals of human beings and culture.
Whereas in modern art, it has been said that it offers little more than perversion, confusion, and self-gratification for the artist. However, this cannot be entirely true. Those who criticize modern art may miss the point of art completely, that is, to invoke a reaction from the viewer and depict something never depicted before, and contemporary art certainly achieves both.
Degradation of Skill
Another criticism of modern art is that it has caused a radical decline and devolution in the skill of the craft. This may be a more accurate statement and one harder to argue against. Many critics believe that modern art is a sham consisting solely of poor ideas and bad techniques.
They argue that it takes little thought or effort to produce, and due to the implementation of modern means, there may not be a skilled enough person alive today that could come close to creating something along the lines of Da Vinci or Rembrandt.
Although this is a sad thought, there may be an alternative way of looking at it. The art of yesterday could only be achieved by a few masters who spent their lives dedicated to their work. In today's world, anybody can be an artist. Therefore, more art can be produced to change the world more quickly.
What is Art?
These two opposing views on the subject beg the question, what is art anyway? Some people believe that it is anything that consists of creativity without any necessary goal. In contrast, others believe that art is only something that can be achieved through direct aim and painstaking effort.
Classical thinking has defined art into three main categories: representation, expression, and form to be more specific in terms of paintings. The Greeks described it as 'mimesis,' which means imitating or copying.
Perhaps most fascinating about modern art is how it completely tears these ideas apart and replaces them with the model of art being whatever you want it to be. However, you want it to be. If you can think it and create it- then it is art.
The Bottom Line
Whether classical or modern, whichever side of the spectrum you most sympathize with, at least this much is proper. The world needs art. It has forever been the mirror held up to ourselves and our society. In modern times art may have changed beyond our recognition of what it was previously, but at its core, it is still entirely the same. Art is our emotions, feelings, hopes, and desires. Art is humanity, and humanity is art.