Last Updated on January 30, 2023 by hassan abbas
About
On the Burundi border, in southwestern Rwanda, the Nyungwe Forest is located. It is bordered by Lake Kivu and west of the Democratic Republic of Congo, and to the south of Kibira National Park.The best montane rainforest in Central Africa is "Nyungwe forest". Between the Nile Basin in the east and the Congo River basin in the west, it is located in the watershed. The eastern side of the Nyungwe Forest is also one of the tributaries of the Nile sources.
In 2004, Nyungwe National Park was established, and it approximately covers an area of 970 km2 of meadows, rainforest, bogs, bamboo, and swamps. Within the boundaries of Bigugu Park, the mountain is located. To manage the Nyungwe National Park for the first 20 years, the Rwanda Development Board signed a compromise with African parks in October 2020.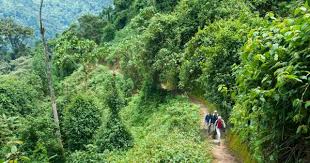 What to see and do in Nyungwe Forest National Park?
In Africa, the Nyungwe forest is a priority for the protection of a vast diversity of animal species. It consists of over 300 bird species, 32 amphibian and 38 reptile species, 13 different primate species, and 1068 plant species.
Nyungwe's avian highlight is an excellent example of blue turaco. A kinky blue, red, and green bird flying from tree to tree, like a procession of psychedelic color.About 400 chimpanzee's population, of which two troupes are accustomed to human contact. Hiking in the beautiful reserve and facing these chimps is what attracts most visitors to the area.Here are some things you can do and enjoy at Nyungwe Forest National Park:
1. Chimpanzee trekking
If you plan to engage in chimpanzee tracking while on safari in Rwanda, then the only choice you have is Nyungwe Forest, National Park. This primate adventure starts at 8:00 am at the park headquarters with a morning briefing from one of the park officials, and after, you will set off to the jungles with a guide to look out for these creatures.
This experience will take you about 2 to 6 hours depending on their location, and while trekking for them, don't miss spotting out most of the bird species that thrive at this park.
2. Canopy walk
If you are interested in experiencing something unique while on tour in Rwanda, then don't miss being part of the canopy walk in Nyungwe Forest National Park. This activity offers you an opportunity to explore most of the bird species, butterflies, primates, and others.
3. Colobus monkey trekking
This is another exciting primate experience that you need not miss to engage in while on safari in Nyungwe Forest National Park. This park boasts of over 400 individuals of colobus monkeys, most of which will come your way as you trek. This experience equally begins at the park headquarters and usually lasts for two to five hours, and visitors have only an hour of a face-to-face encounter with them.
4. Bird Watching
This park is also ideal for birding, and there are over 300 distinct bird species that wait for you to spot while on safari in Rwanda. They include, among others, the Grauer's warbler, the Rwenzori Turaco, purple breasted and blue-headed sunbird, alehe poliophrys, stripe breasted tit Parus fasciiventer, Shelley's Crimsonwing, Cossypha archeri, cannabis regius, Neumann's warbler, kupeornis ruficinctus, and others.
5. Mountain Climbing / Hiking
If you are good at hiking, consider this parks a must to visit while on vacation in Rwanda, and you won't regret it in life. It comprises about 13 remarkable hiking trails that make it a true hiker's paradise. Most significantly, they offer you an opportunity to come close to the natural beauty of the protected area while on foot.
While on a hiking adventure at this park, you will be amazed by remarkable views of different primates, birds, butterflies, and wildlife and explore most of its distinct plant species of medicinal importance and several trees and not forget several flowers.
Read More: Dell laptop screen goes black but still running. Why?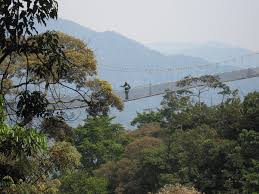 How do we get to Nyungwe Forest National Park?
This park is 225 kilometers' drive; approximately 4 to 5 hours drive off from Kigali. We can reach it by both road and air. By road, you can hire a vehicle with a local/ground tour operator. Most of them are very knowledgeable about the destination or board the bus to Ruzizi from Nyabugogo Bus Park, Kigali, and you will spend about 8 hours on the road.
For adventure enthusiasts, you can embark on a self-drive from Kigali to Muhanga and then to Nyanza to Huye town or from Huye westwards to Nyamagabe, which is next to the park. By air, you can take a flight from Kamembe airport, about 32 kilometers away from Nyungwe Forest National Park. Domestic flights are always arranged for visitors by RwandAir.
What is the entrance fee to Nyungwe National Park?
Park entry fees for Nyungwe Forest National Park vary depending on the park activity you choose and the type of visitors you have. You can be a foreign resident, a foreign non-resident, and a citizen of Rwandan or the East African Community (EAC). There is a fee for each category. Below are some of the charges that apply to different passengers:
Chimpanzee trekking fee
Foreign non-residents pay: $90
Foreign residents pay: $60
Rwanda citizens pay: 5,000 Rwf
East Africa Community nationals (EAC) pay: $10
Rawanda citizen students pay: 2,500 Rwf.
Bird watching fee
Foreign non-residents pay: $50/person
Foreign residents pay: $40/person
Rwanda citizens pay: Rwf 5,000/person
East Africa Community nationals pay: $10/person.
Rwanda citizen students pay: Rwf 2,000/person
Canopy walk fees
Foreign non-residents pay: $60/person
Foreign residents pay: $50/person
Rwanda residents pay: Rwf 5,000/person
Rwandan students pay: Rwf 5,000/person
Camping fees
With your tent: $30/night
Without tent: $40/tent/night
Hotels near Nyungwe National Park
One&Only Nyungwe House: (6.6 miles from Nyungwe National Park)
Inn on the Lake: (30.8 miles from Nyungwe National Park)
Imuhira Eco-Tourism Rwanda: (11.6 miles from Nyungwe National Park)
Nyungwe Nziza Ecolodge: (15.2 miles from Nyungwe National Park)
Kitabi EcoCenter: (15.5 miles from Nyungwe National Park)
Read More: Happy Trails! The 10 Best Riding Trails in the US.