Last Updated on May 27, 2023 by hassan abbas
There is no doubt that gutters are essential for keeping our homes safe. They provide efficient water flow through the pipes and direct water away from the roof and foundation of the house. Accordingly, you need to have a well-functioning gutter system for your home. To maintain your gutters in their best form, you will also need suitable gutter guards that keep debris and leaves away from your gutters. This way, gutter guards ensure the safety of your gutters, roof, foundation, and overall structure of your house.
However, it is indeed reasonable to question the appeal of your gutters. You might think that you do not have many gutter options in which you can find the one that perfectly complements the overall design of your home. If this is the case, we have good news for you! Along with different gutter style options, gutters also come in various color options in which you can choose the most suitable one for your taste and home design.
Consider that your gutters are visible; in that case, you may care about the look of your gutters. Luckily, there are many beautiful gutters color options that complement the overall design of your house. While choosing the right color for your gutters, it would be better to consider the following points: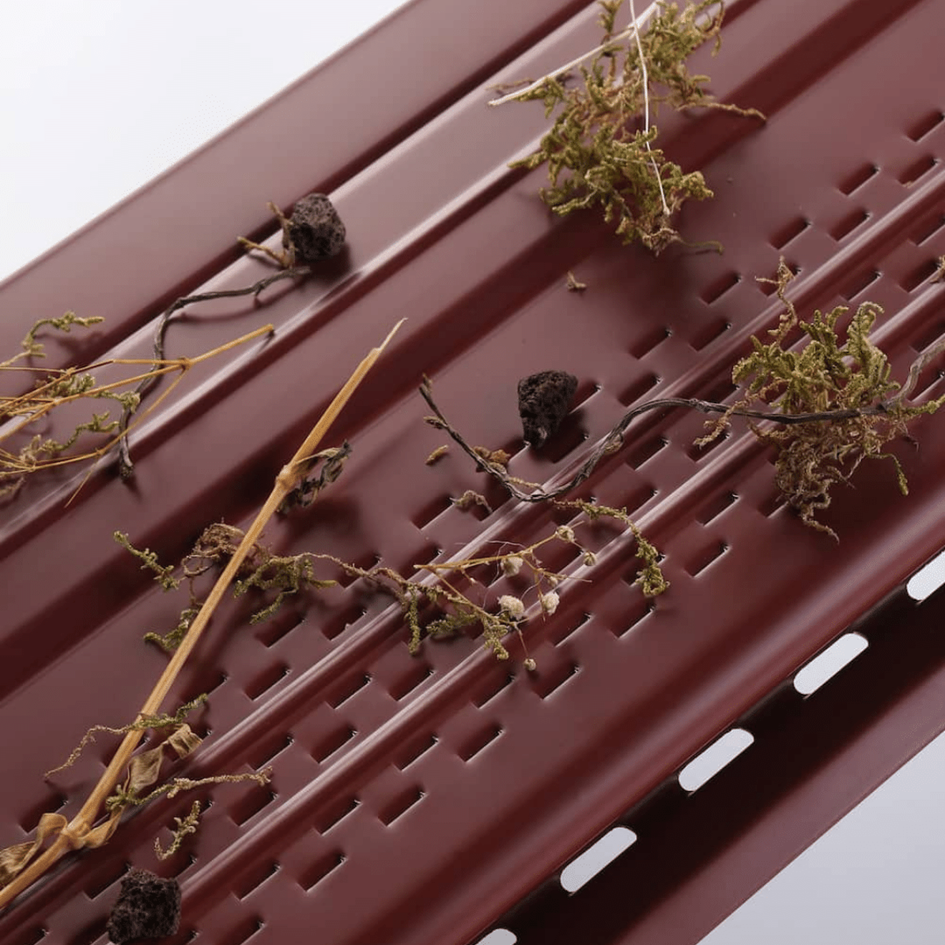 Check the gutter colors and types in the neighborhood. This way, you will know whether your neighbors choose a general theme. If this is the case, it would be better to select a gutter system with a suitable color and style that will not look odd among the picks of your neighbors.
If you are after a smooth design for your gutter system, you may think about the following options. If the trim on your house is tick, you may match your gutters color to your trim. This may give a great dimension to the look of your home. Contrarily, if the trim is thin, you may match your gutter color to the roof. This will be a better idea for those who want gutters to look like an extension of their roofs. Since many contemporary houses do not have trims, matching gutters color with the roof is trendy. Or you may also consider matching your gutter color with the exterior paint of your home. This way, you will have a seamless and harmonious look.
If you are bold enough to use your gutters as a contrasting element for your exterior home design, you might prefer either much darker or lighter colors for your gutters. For instance, if you have a light-colored look for the overall exterior design of your house, you can choose black gutters that will definitely make a statement.
You may think about having copper guards as they are the most stylish gutters on the market. Copper guards are perfect for any exterior design color palette, along with their durability and functionality. Accordingly, you will not have to worry about how to match your gutter color with the rest if you prefer copper gutters.
As Art of Gutter, we provide high-quality and durable gutter guards in various color options. Once you decide on the color of your gutters, check our catalog to purchase a gutter guard that matches your gutter color and style.
Read More: How to Choose Gutter Colors