Last Updated on October 14, 2023 by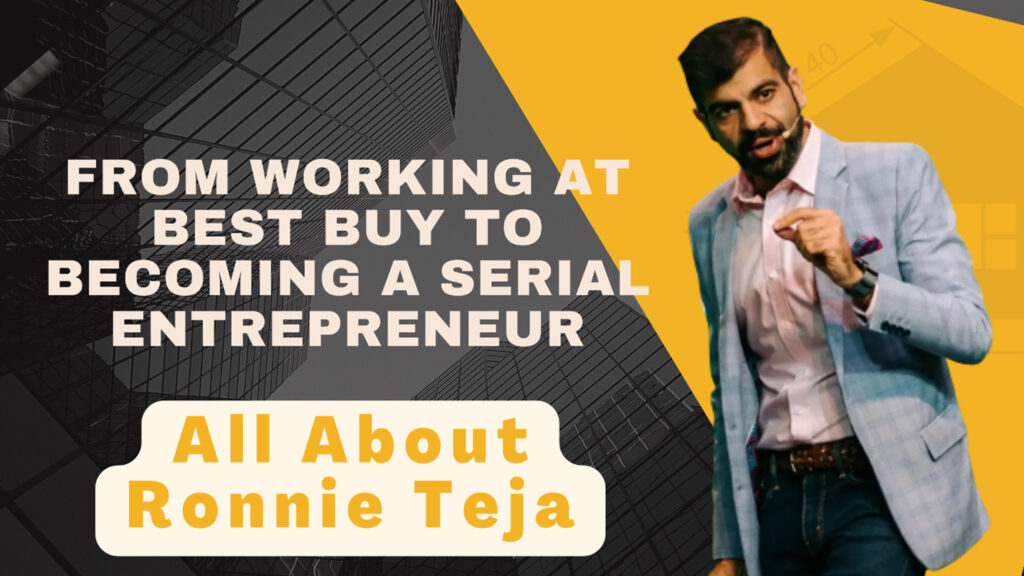 If you look at the profiles of some of the successful entrepreneurs, the common thing to observe is persistence and creativity. Successful entrepreneurs always desire to improve and are committed to learning more. Those who possess self-discipline and optimism in their character are always seen standing at the top. Ronnie Teja is one of those hardworking, successful entrepreneurs who is making his name on the top list of entrepreneurs.
Who is Ronnie Teja?
Ronnie Teja is a successful entrepreneur and digital market expert who owns 15+ e-commerce sites with more than 75+ employees worldwide. He is now motivating others to succeed by public speaking as he is being invited to digital market workshops and conferences. He started his e-commerce journey in 2008 and has almost about 14 years of experience in digital marketing.
Ronnie's Determination
Ronnie Teja started his career as a digital expert at HSBC bank in Canada and it was the time when he started observing different entrepreneurs and their styles of working. He observed and learned from their approaches. He got interested in the business when he realized that he was making other entrepreneurs achieve big by working for them. Something in his head changed and he started working on his products and providing satisfactory services to his clients. He was determined to become one of the most successful entrepreneurs.
Branzio: Watch Store
His determination and desire to achieve great things in life made him move to different parts of the world for entrepreneurship, he had to go to Australia while he was providing services to some other businessmen when he started working for his brand of watches. He had no money and a bigger investment in hand, also banks were not ready to provide loans to be invested in e-commerce businesses and that is when he realized that he should meet some local shopkeepers in Hong Kong for wholesale rates.
He believed in himself and didn't give up on his dreams of running his own brand and business. with all the struggles and potential to achieve something, his brand was recognized by many other people, and now, He is the founder of the well-known online watchstore, Branzio.
Ronnie: An e-commerce coach
Ronnie Teja is an expert e-commerce serial entrepreneur who owns 15+ sites. He now knows all the basic tactics and tricks to commercialize his product, provide services, and maintain a specific status on the digital market sites. From employing 75+ employees and managing the team with the same vision as he does, he has now become a master of e-commerce sites. He is a well-known spokesperson and has spoken at many events, podcasts, workshops, and conferences to help other entrepreneurs to tackle the problems and needs of working on a digital platform.In the events,he is sharing his experiences,failures, and struggles that he has faced in achieving what he has achieved today. He not only is a successful entrepreneur but also wants others to taste the power, success, and passion this e-commerce holds.
Ronnie's Goals
Ronnie's goals are not only to build his e-commerce sites for the short term butthe long term. He focuses on providing the authentic and best products to his customers. He is working with a team that is providing customer services to his customers and all the needs of the customers are being considered.
He aims to make entrepreneurs and small business communities learn the strategies and technological advancements to provide services to their customers an at advanced level. He is motivated to bring about a change in the mindsets of entrepreneurs and make them learn and utilize the digital markets for their positive and constructive aspects. His goal is to learn and provide more practical and useful ways for the team to grow productively and professionally. He is making e-commerce accessible to everyone by helping everyone through his podcasts and interviews. He firmly believes that this industry will grow only when people are going to use it constructively.
Conclusion
Working as a digital expert in companies and banks to becoming an entrepreneur required a lot of effort and struggles on the part of Ronnie and he had to face everything on his own as there was no expert guidance available anywhere on the internet. Ronnie Teja was a man of integrity and strong values, he did not lose hope and kept on working through thick and thin. He is now a famous entrepreneur with public speaking skills, through his advice and strategies many online businesses have developed and flourished on e-commerce sites.
Apart from this if you are interested to know more about The best book writer for entrepreneurs then visit our Uncategorized category.