Last Updated on January 30, 2023 by
You can dress up your little pooch with so many different types of outfits. From hilarious to absolute fashionista, there is something out there for everyone. Here are a few different types that are some community favorites currently.
In my opinion, Maltipoo puppies look the best in these outfits. They come in many colors, so you can have your dream pup in the color you like the most! Plus, with their adorable teddy bear-like face and hair, they are bound to pull off every outfit you put them in.
Simple but Cute
One style I have seen the most and think is adorable is the sweaters. These are more simple side, but they are so cute! I feel like these sweaters also bring out the "teddy bear" look that the maltipoos are famous for, and every time I've seen one, they never fail to uphold that reputation.
These are usually more common during the colder months. They help your little friend stay warm and comfortable, which is nice because you don't have to worry about keeping them warm or making sure you aren't out for too long.
Graphics
Another type of clothes I see on dogs is shirts with funny or cute sayings. I have also seen a few that'll have band logos on, and this is perfect for people who have a favorite band and would love to match with their little baby. Also, there are millions of funny phrases that you can put on your puppies' shirts.
Fancy/Dressy Outfits
My personal favorite outfits are definitely on the more preppy side. I mean, who doesn't want to dress their little puppy up in adorable outfits and carry them around in a bag? Also, most dog outfits cost about the same, so you can get ones that will make your puppy feel like you are spoiling them without hurting your wallet.
Summer Outfits
Obviously, the summer will be hotter than the other seasons, but there are still outfit options you can choose if you love dressing up your puppy. You can get looser outfits that aren't tight against the puppy because that could be why they are getting too hot.
These Hawaiian T-shirts are one of my favorites that I have found, and they are absolutely adorable!
Or you can choose outfits that have less coverage to help make sure they aren't too hot, like bandanas. You can also choose ones that have movies or bands that you like.
Or you can choose outfits like these bikinis, which are so funny while still being super cute. Your puppy will definitely appreciate outfits like these during the summer because they won't feel super hot, but they will still get to be stylish.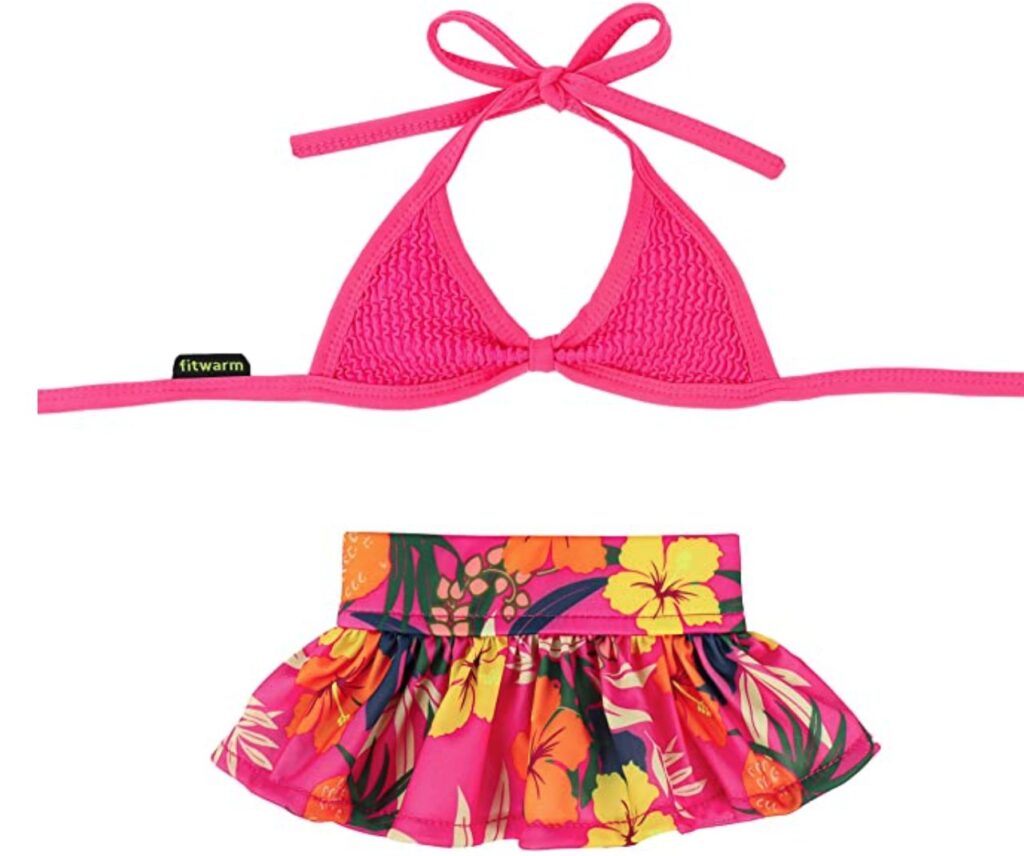 Cute Collars
However, if you don't think you will have the time to be able to dress them up every day or if you would just rather not dress them up and show off their beautiful fur, you can also get collars that have more spice than the usual plain ones. Plus, there are so many cute options; you can switch them out if you want to.
This one comes with a matching bracelet you can wear, this one is my favorite!
This one has a matching leash and is so cute! This collar is definitely my first pick if I ever get a boy dog; he'll be so handsome!
This outfit is a collar and a dress combined, and I think it's so cute, it also doesn't seem to heavy and would be perfect for days that aren't too hot. Plus, it has a matching leash that adds a lot to the outfit, making it even more perfect.
Dressing up dogs is so fun, and there are so many different options you can choose from, so no matter what your style is, there is definitely something out there that is perfect for you and your little puppy.
Apart from this if you are interested to know more then visit our pets category.